Appletree Driving - for under 17/pre-road, motorhomes, caravans, trailers, & B+E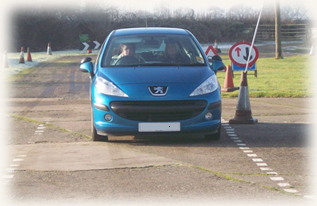 Situated in Appletree, near Chipping Warden village [map], five miles north of Banbury, just off the A361, Appletree Driving offers a private site for those wishing to learn, refine and perfect their driving skills.
The Appletree site has been involved with driver training for eleven years and during that time, hundreds of drivers have availed themselves of its facilities. It has been immensely helpful to the novice and the more experienced alike. A number of journalists from motoring magazines have attended courses at the site, and their feedback has been uniformly positive.
On public roads it can often be difficult to find suitable areas to practise because of other vehicles or pedestrians being present. The site is completely private and so permits the driver to apply maximum concentration, free from distractions. It also allows drivers to repeat any exercises without unnecessary delay.
No licence required!
We offer training in the handling of cars, caravans, trailers, motorhomes, and Category B+E. The skills obtained at Appletree will help to build confidence and boost competence for drivers, before they venture onto public roads. The fully marked track layout includes roundabouts, junctions, hillstarts, areas for reversing and parking, and slalom. We also have an on-site classroom for instruction in driving theory.
The facility is available to everyone, including drivers under the age of 17, and those wishing to hone their skills away from the public thoroughfares. No driving licence is required.
Many absolute beginners have used Appletree Driving to develop their motoring skills to a good standard before venturing on to public roads. These courses are not exclusively for under-17s - many of our drivers are older, but wish to take their first few lessons in a safe, legal and traffic-free environment.This is particularly true of caravan and trailer work.
Credentials
In addition to offering its own courses, Appletree Driving is a Caravan Club Course Training Centre, and has been used on a regular basis by many local organisations, including
Rushmere Academy, Northampton
William Parker School, Daventry
Connexions Rushden
Northamptonshire Young Carers
Many private students have also used our facilities, and we take pride in offering professional, friendly tuition to each and every one.